About our company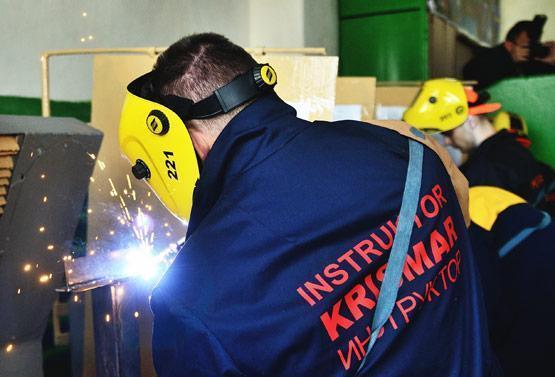 The guiding idea of KRISMAR Krzysztof Kosiński Sp.k. is a reliable, conscientious, honest and sincere approach to clients and employees. We are characterised by transparency of operations and openness to providing assistance to all parties related to the widely understood labour market.
Our aim is to attract the best professionals, to motivate them appropriately, to reward them and to make their skills available to our clients. In this way, our contractors are guaranteed continuity in their work / production processes and our employees feel valued and well remunerated.
We are involved in the provision of welding and locksmith services, as well as other work related to metalworking in the broadest sense. We provide our services on the premises of the client's production plant or other indicated place, under the direction and supervision of the client. We specialise in providing services in the following areas: repair of rail vehicles, construction and assembly of steel structures, construction of roads and railways, construction of rail vehicles and buses, electromechanical/electrical works, shipbuilding, simple physical works and many others depending on the client's needs. We operate throughout Poland and abroad. We provide services to companies and individual customers.
Many companies have already started working with us and are happy to recommend us as a reliable and trustworthy contractor who will not only guarantee an adequate number of hands for work, but will also take on the entire logistical burden of transport and accommodation.
Our ranks are filled by an experienced staff of more than 800 workers from Eastern Bloc countries, including Ukraine, Belarus, Uzbekistan and Moldova. Our employees are professionally prepared to carry out the tasks assigned to them, they have working and protective clothing, as well as medical examinations and occupational health and safety training.
We are distinguished by our flexibility and quick response to the needs of our clients, which ensures that our clients increase their production capacity in the shortest possible time. By working with us, you will reduce the costs associated with the time-consuming process of recruiting and selecting qualified or non-qualified employees, their training and induction to a given position, as well as the costs associated with employee sickness, holidays and redundancy.
We would like to invite you to take a look at our offer!